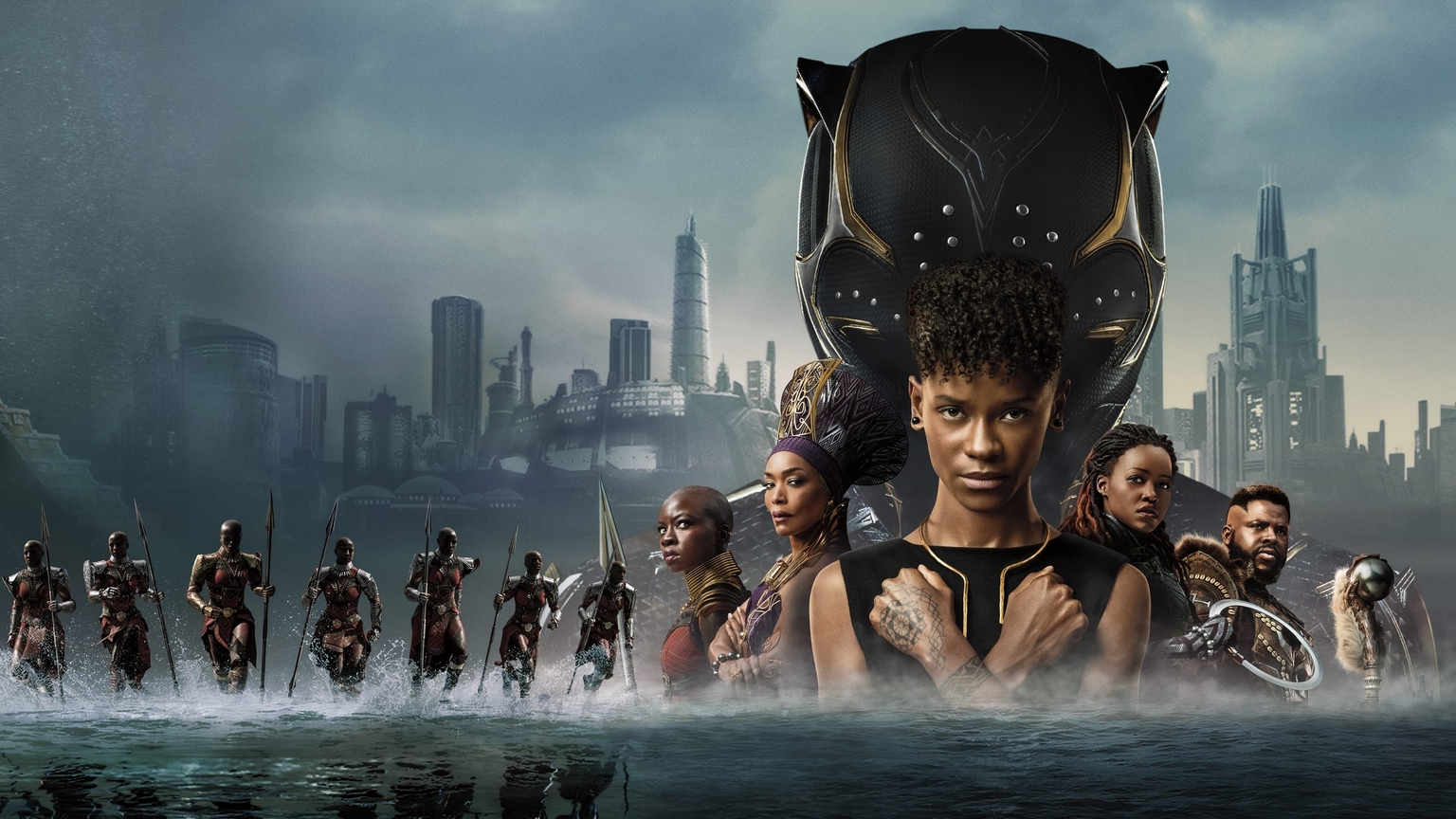 Black Panther: Wakanda Forever
Forever.
Action

Adventure

Science Fiction
STORY
Queen Ramonda, Shuri, M'Baku, Okoye and the Dora Milaje fight to protect their nation from intervening world powers in the wake of King T'Challa's death. As the Wakandans strive to embrace their next chapter, the heroes must band together with the help of War Dog Nakia and Everett Ross and forge a new path for the kingdom of Wakanda.
TRAILERS
'Black Panther: Wakanda Forever' Wins Best Costume Design | 95th Oscars (2023)
Costume Design | Ruth E. Carter | Oscars95 Press Room Speech
A Conversation with Danai Gurira & Simone Manuel
Making of: Underwater Scenes
Ruth E. Carter Behind the Scenes
Behind the Scenes: The New Black Panther Suit
The Cast Answer YOUR Questions!
'Black Panther: Wakanda Forever' with Angela Bassett, Ryan Coogler & more | Academy Conversations
The Making of Marvel's Black Panther: Wakanda Forever | The #DolbyInstitute Podcast
The Emotions of Marvel Studios' Black Panther: Wakanda Forever
In Theaters Tomorrow Night
CAST
Letitia Wright

Shuri / Black Panther

Lupita Nyong'o

Nakia

Danai Gurira

Okoye

Winston Duke

M'Baku

Dominique Thorne

Riri Williams / Ironheart

Tenoch Huerta Mejía

Namor

Angela Bassett

Ramonda

Florence Kasumba

Ayo

Michaela Coel

Aneka

Mabel Cadena

Namora

Lake Bell

Dr. Graham

Alex Livinalli

Attuma

Robert John Burke

Smitty

Danny Sapani

Border Tribe Elder

Isaach De Bankolé

River Tribe Elder

Connie Chiume

Zawavari

Martin Freeman

Everett Ross

Julia Louis-Dreyfus

Valentina Allegra de Fontaine

Richard Schiff

U.S. Secretary of State

Michael B. Jordan

N'Jadaka / Erik 'Killmonger' Stevens

Dorothy Steel

Merchant Tribe Elder

Zainab Jah

Mining Tribe Elder

Sope Aluko

Sope the Shaman

Trevor Noah

Griot (voice)

Shawn Roberts

WDG Scientist

Zola Williams

Zola

Janeshia Adams-Ginyard

Nomble

Jemini Powell

Jemini

Marija Abney

Dora Milaje

Keisha Tucker

Dora Milaje

Ivy Haralson

Dora Milaje

Maya Macatumpag

Dora Milaje

Baaba Maal

Funeral Singer

Jabari Exum

Drummer / Naval Guard

Massamba Diop

Drummer

Magatte Saw

Drummer

Gerardo Aldana

Assembly Chairperson

Gigi Bermingham

French Secretary of State

Rudolph Massanga

Young Mali Technician

Judd Wild

Jackson

Amber Harrington

Rita Salazar

Michael Blake Kruse

Henderson

Justin James Boykin

Cargo Ship Helo Pilot

Anderson Cooper

Anderson Cooper

Mackenro Alexander

River Barrier Naval Guard

Kamaru Usman

Naval Officer

T. Love

M'Bele

Floyd Anthony Johns Jr.

Jabari Warrior

Jermaine Brantley

Jabari Warrior

Granger Summerset II

Jabari Warrior

Luke Lenza

MIT Student

Alan Wells

Federal Agent

Bill Barrett

FBI Special Agent

Lieiry J. Perez Escalera

Haitian School Kid

Sevyn Hill

Haitian School Kid

Gavin Macon

Haitian School Kid

Skylar Ebron

Haitian School Kid

Taylor Holmes

Haitian School Kid

Angela Cipra

Talokanil Guard

Faya Madrid

Talokanil Guard

María Telón

Female Mayan Elder

María Mercedes Coroy

Namor's Mother

Josué Maychi

Shaman

Sal Lopez

Yucatan Elder

Irma Estella La Guerre

Namor's Mother (Older)

Manuel Chavez

Young Namor

Leonardo Castro

Hacienda Owner

Juan Carlos Cantu

Friar

Shawntae Hughes

Fisherman

Corey Hibbert

Terrified Man

Zaiden James

Wakandan Kid

Aba Arthur

Naval Engineer

Délé Ogundiran

Flower Shop Owner

Kevin Changaris

Pete

Valerio Dorvillen

Haitian Taxi Passenger

Don Castor

Haitian Taxi Passenger

Jonathan González Collins

Haitian Taxi Passenger

Divine Love Konadu-Sun

Toussaint

Chadwick Boseman

T'Challa / Black Panther (archive footage) (uncredited)