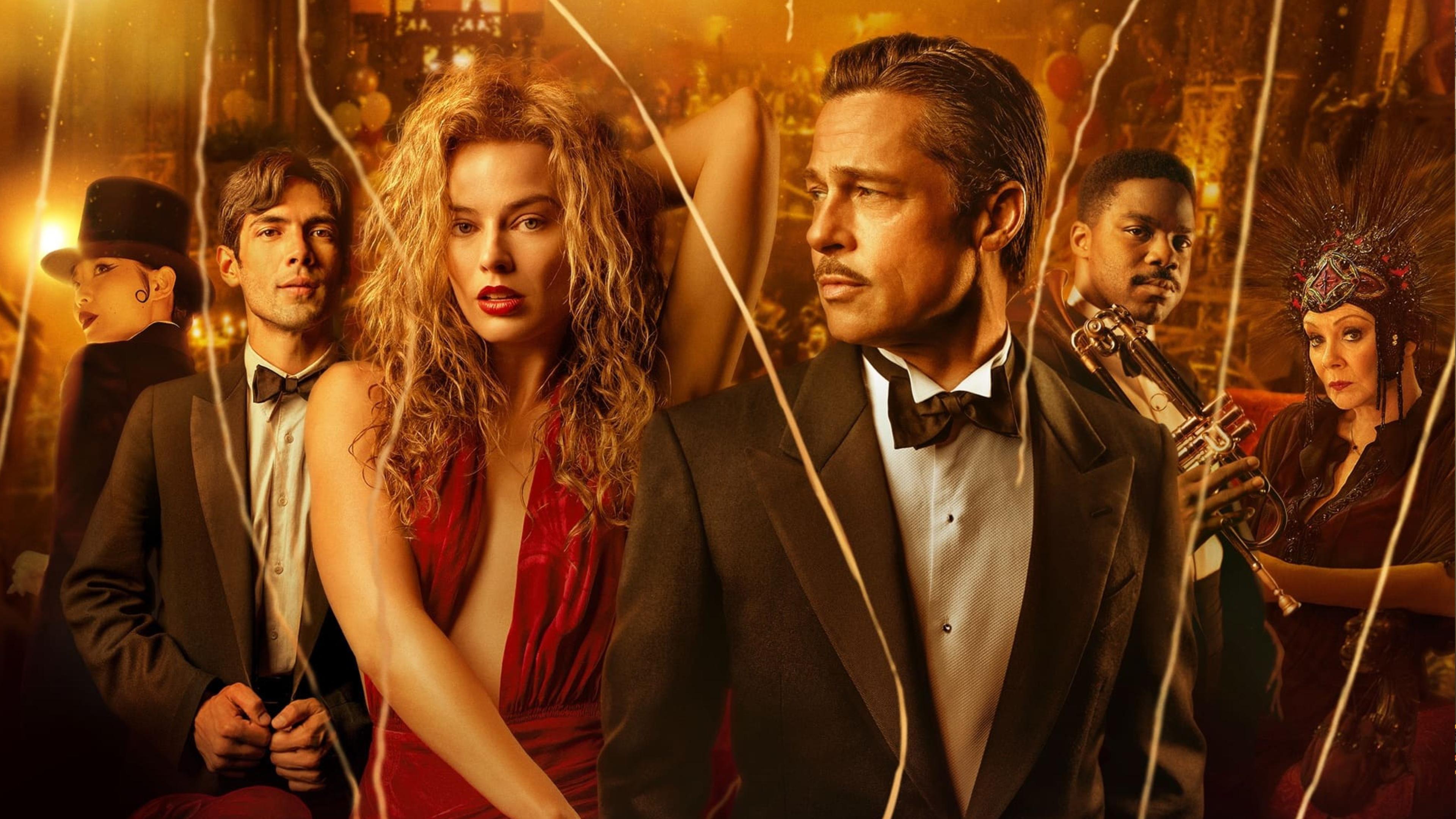 Babylon
Always make a scene.
STORY
A tale of outsized ambition and outrageous excess, tracing the rise and fall of multiple characters in an era of unbridled decadence and depravity during Hollywood's transition from silent films and to sound films in the late 1920s.
TRAILERS
The party is about to begin.
Welcome to Babylon, where rules are meant to be broken.
Babylon | Diego Calva, Olivia Hamilton & Matthew Plouffe Red Carpet Interviews
Drink responsibly this festive season
You've never seen a party like this
'Babylon' with Damien Chazelle, Justin Hurwitz & more | Academy Conversations
Elinor St. John Featurette
Cinematography Featurette
Babylon Party Rules with Alissa Violet
Directing Babylon Featurette
The Costumes of Babylon Featurette
Production Design Featurette
Scoring Babylon Featurette
When losing wasn't an option
Welcome to Babylon Featurette
Official Trailer (Uncensored)
CAST
Brad Pitt

Jack Conrad

Margot Robbie

Nellie LaRoy

Diego Calva

Manny Torres

Jean Smart

Elinor St. John

Flea

Bob Levine

Jovan Adepo

Sidney Palmer

J.C. Currais

Truck Driver

Jimmy Ortega

Elephant Wrangler

Hansford Prince

Joe Holiday

Telvin Griffin

Reggie

Olivia Wilde

Ina Conrad

Circus-Szalewski

Driver (Wallach's Party)

Lukas Haas

George Munn

Li Jun Li

Lady Fay Zhu

Kaia Gerber

Starlet

Patrick Fugit

Officer Elwood

Eric Roberts

Robert Roy

Cici Lau

Gho Zhu

Tyler Seiple

Customer at Sam Wong's

Zack Newick

P.A. (Early Kinoscope)

Rory Scovel

The Count

Olivia Hamilton

Ruth Adler

P.J. Byrne

Max (Ruth's Assistant Director)

Alexandre Chen

Ruth's D.P. (James Wong Howe)

Bob Clendenin

Otto's A.D.

Miraj Grbić

Extra

Johnny Hoops

Extra

James Wellington

Extra

Carlos Nunez

Tim

Laura Steinel

Abby (Assistant Jack's Tent)

Danny Jolles

Writer (Jack's Tent)

James Vincent

Employee (Camera Rental House)

Richard Clarke Larsen

A.C. (Camera Rental House)

Max Minghella

Irving Thalberg

Samara Weaving

Constance Moore

Jeff Garlin

Don Wallach

Anthony Burkhalter

Reporter (Small Restaurant)

Terry Walters

Editor (Kinoscope)

Trisha Simmons

Woman at Door

Ariel Flores

Young Man

Karolina Szymczak

Olga Putti

Sean O'Bryan

Studio Executive (Billy)

David Ury

Fan (Autograph)

Katia Gomez

Nurse at Sanatorium

Vanessa Bednar

Nellie's Mother

Carson Higgins

Lloyd (Sound Mixer)

Armando Cosio

Grip Harry (1st Day of Sound)

Frederick Koehler

D.P. Bill (1st Day of Sound)

Spencer Morgan

Clapper (1st Day of Sound)

Ric Sarabia

Crew Member (1st Day of Sound)

Jim Allen Jackson

Set Medic (1st Day of Sound)

Katherine Waterston

Estelle

Yissendy Trinidad

Carmelita

Cyrus Hobbi

Football Player

Anton Hedayat

Football Player

Hayley Huntley

Liz (Pool Party)

John Mariano

Master of Ceremonies

Christopher Allen

Manny's Assistant

Arely Vianet

Spanish Language Actress

Jeremy Roberts

Studio Employee (Sidney's House)

Alex Reznik

Kinoscope Executive

Chloe Fineman

Marion Davies

Pat Skipper

William Randolph Hearst

John Kerry

Jonathan Rothschild

Sarah Ramos

Harriet Rothschild

Jennifer Grant

Mildred Yates

Julian Lefevre

Waiter

Taylor Nichols

Wealthy Man

Bryan Scott Johnson

Wealthy Mann

Kelly Meyer

Wealthy Woman

Brenna Power

Wealthy Woman

David Abed

Young Studio Executive

Kevin Symons

Guest at Hearst Bungalow

Jonathan Thomson

Guest at Hearst Bungalow

Jim O'Brien

Guest at Hearst Bungalow

Chris Doubek

Guest at Hearst Bungalow

Dorian Martin

Production Assistant

Todd Giebenhain

Prop Master (Kinoscope)

Mather Zickel

Distribution Executive

Ireland Sexton

Thalberg's Secretary

Andrew Hawtrey

Kinoscope Assistant Director

Mike Fletcher

Guard (Kinoscope)

Jonathan Ohye

New MGM Assistant Director

James Crittenden

Harold

Pete Ploszek

Young Actor (Jack's Beach Set)

Robert Beitzel

Lewis the Director

Ethan Suplee

Wilson

Walker Hare

McKay's Associate

Douglas Fruchey

Masked Man

Taylor Hill

Rebecca

Marc Platt

Producer

Stephen Thomas

Tourism Official

Sophia Magaña

Manny's Daughter

Karen Bethzabe

Silvia Torres

Oscar Balderrama

Guard at Gate

Aurielle Simmons

Ticket Clerk (1952)

Eamon Hunt

Man Shouting in Bad Irish Accent

Kenajuan Bentley

Conductor (Night Club)

John Macey

Kyle

Noah Reilly

Bellhop

Marcos A. Ferraez

Police Officer

Phoebe Tonkin

Jane Thornton

Troy Metcalf

Orville Pickwick

Albert Hammond Jr.

Guest (Chicken Line)

Cutty Cuthbert

Jimmy

Bregje Heinen

Female Guest (Nathalie)

Dana Marcolina

Female Guest (Jack Tattoo)

Tal Seder

Male Guest (Wallach's)

Robert Morgan

Director (Wallach's Party)

Nana Ghana

Woman in Ostrich Feather Hat

Joe Dallesandro

Charlie / Photographer

E.E. Bell

Wilbur

Sol Landerman

Publicity Executive (Wallach's Party)

Karina Fontes

Jen

Spike Jonze

Otto (uncredited)

Freya Parker

Nude Extra (uncredited)

Tobey Maguire

James McKay

Judy Garland

Self (Archival Footage)

Gene Kelly

Self (Archival Footage)

Robert Patrick

Self (Archival Footage)

Lewis Tan

Smoking Man (Uncredited)

Manny Liotta

Sneezing PA