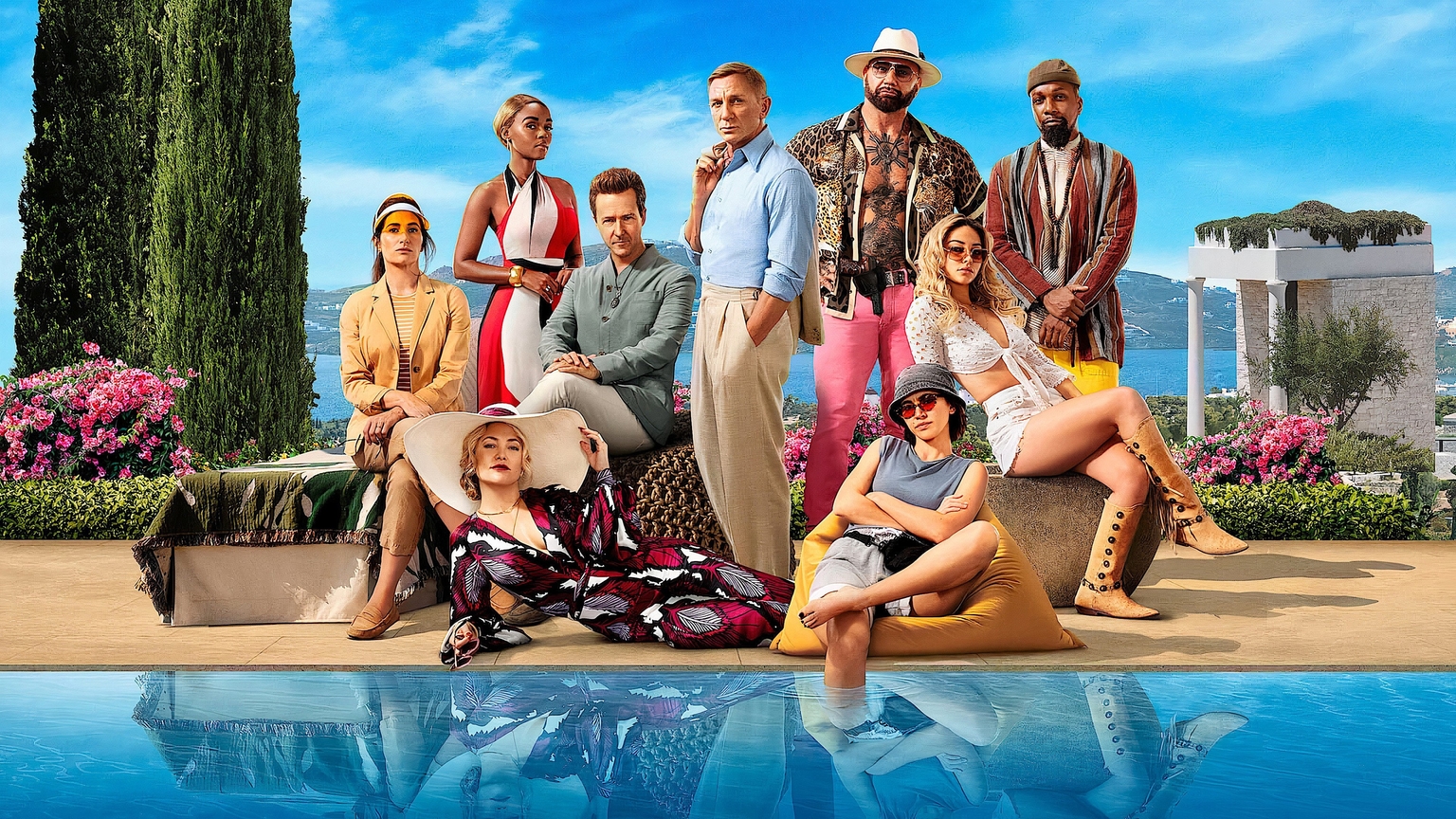 Glass Onion: A Knives Out Mystery
When the game ends, the mystery begins.
STORY
World-famous detective Benoit Blanc heads to Greece to peel back the layers of a mystery surrounding a tech billionaire and his eclectic crew of friends.
TRAILERS
Scene at the Academy: Glass Onion: A Knives Out Mystery
Kate Hudson & Leslie Odom Jr.'s Favorite Costumes From Glass Onion: A Knives Out Mystery
Glass Onion: A Whodunit of the Moment
Glass Onion Cast Daniel Craig & Janelle Monáe Break Down their Looks
Becoming Benoit Blanc: Daniel Craig in Glass Onion
Glass Onion Cast Take You Behind the Scenes
Outfitting the Suspects: The Costume Design of Glass Onion
Can Bailey Sarian Out-Sleuth Benoit Blanc?
Glass Onion Cast Tries Daniel Craig's Benoit Accent
Kate Hudson Takes a Tour of London (she hates Marmite, fyi)
Kate Hudson Has A VERY Impressive Party Trick
Who Invited Benoit Blanc?
Kate Hudson has 15 seconds to explain Glass Onion
Madelyn Cline doesn't spoil Glass Onion
A Murder Mystery Magic Trick: The Editing of Glass Onion
Cast Taste Test - Glass Onion: A Knives Out Mystery x Van Leeuwen Ice Cream
Building Character with Environment: The Production Design of Glass Onion
A New Gambit: Janelle Monae Reaches Career Heights in Glass Onion
Kate Hudson & Kathryn Hahn Tell Lies About Their Co-Stars
Brazil Comic Con Behind the Scenes
Rian Johnson and the Cast of Glass Onion on Making the Film
Academy Conversations: Rian Johnson, Janelle Monáe & more
Madelyn Cline, Kate Hudson and Glass Onion Cast Guess Southern Slang
Daniel Craig Plays Murder Mystery - Exclusive Clip
The Cast of Glass Onion: A Knives Out Mystery | BFI London Film Festival 2022 Q&A
The Glass Onion Cast Reacts to the Trailer
Daniel Craig and Janelle Monáe hit the Glass Onion: A Knives Out Mystery red carpet | BFI LFF 2022
GLASS ONION: A KNIVES OUT MYSTERY Q&A | TIFF 2022
CAST
Daniel Craig

Benoit Blanc

Edward Norton

Miles Bron

Janelle Monáe

Helen / Andi Brand

Kathryn Hahn

Claire Debella

Leslie Odom Jr.

Lionel Toussaint

Kate Hudson

Birdie Jay

Dave Bautista

Duke Cody

Jessica Henwick

Peg

Madelyn Cline

Whiskey

Noah Segan

Derol

Jackie Hoffman

Ma

Dallas Roberts

Devon Debella

Stephen Sondheim

Stephen Sondheim

Angela Lansbury

Angela Lansbury

Natasha Lyonne

Natasha Lyonne

Kareem Abdul-Jabbar

Kareem Abdul-Jabbar

Serena Williams

Serena Williams

Yo-Yo Ma

Yo-Yo Ma

Jacek Czajka

Lab Worker

Dan Chariton

Dr. Pierre Bonassus

Eddie Gorodetsky

Dr. Peter Clayton

Coco Shinomiya

Emiko Yamane

Dilcia Barrera

Dr. Dilcia Cabrera

Mark Newman

Dr. Mark Swifton

Adam Davenport

Model

Lauren Ivy

Dancer

Momčilo 'Momo' Pićurić

Vampire in Tuxedo

N.J. Gentry

Nikos

Ali Goksoy

Andino

James Payton

Lawyer

T. Florian Karnowski

Judge

Jake Tapper

Jake Tapper (uncredited)

Panagiotis Margetis

Hotel Server (uncredited)

Adele Franck

Claire's Assistant

Ethan Hawke

Efficient Man

Hugh Grant

Phillip

Joseph Gordon-Levitt

Hourly Dong (voice)